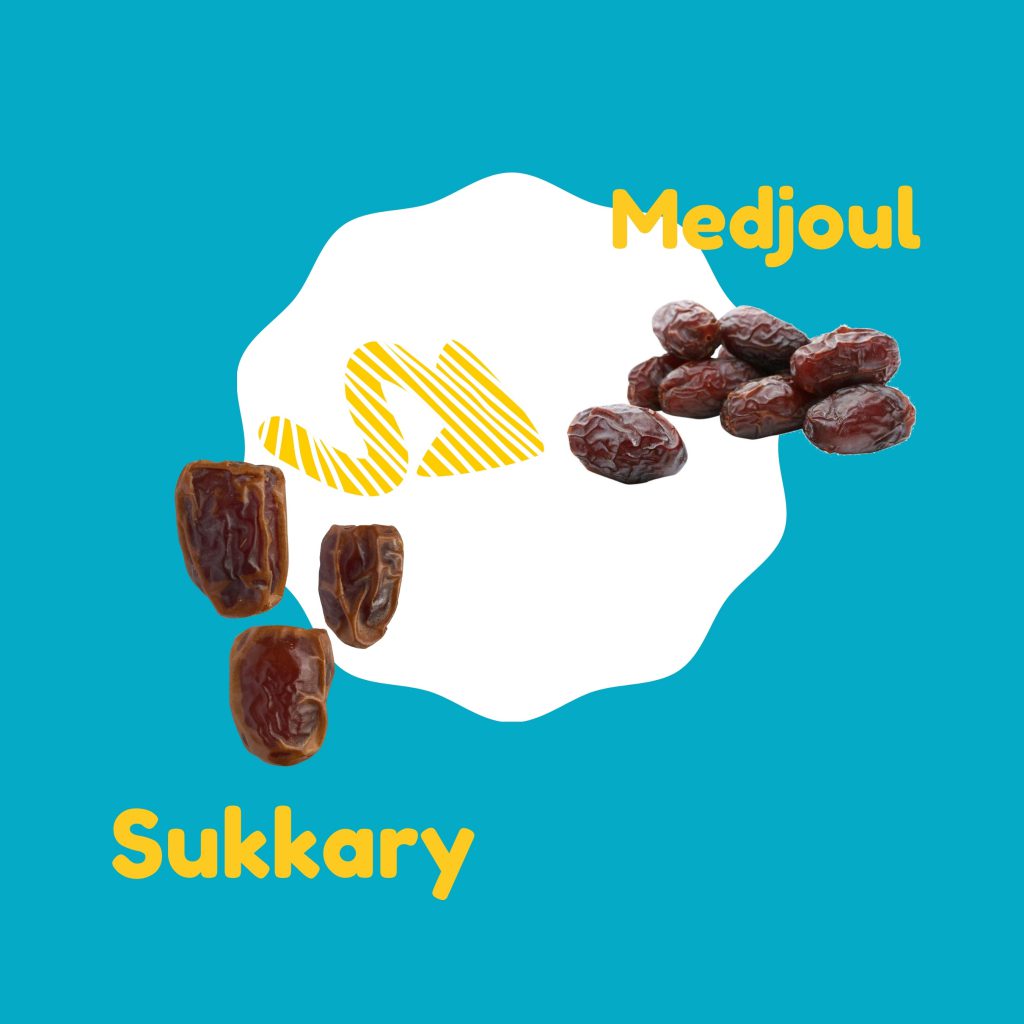 Thing, ding, ding! It's time to battle. Today we will compare our delicious Yogi & Yousef Dates with another quality date, the Medjoul. What are the differences? And what makes our Yogi & Yousef dates so special and delicious? Read on quick!
There are about 1500 different types of dates in the world. Dates grow in warm regions, such as Africa, America and the Middle East. Of all those varieties, Yogi & Yousef picks and packs the tastiest variety: the dalia sukkary date. Yogi & Yousef's dates grow in Saudi Arabia in a fertile oasis in the middle of the desert. The dalia sukkary is freshly picked and sorted by Yogi & Yousef into 2 softnesses, soft and extra soft. Unique in Europe, wonderfully soft and sweet with a creamy caramel taste and full of nutrients.
Today our Sukkary date takes on the Medjoul date. In addition to the Deglet Nour, the Medjoul date is one of the best-known date varieties in the Netherlands. This date variety comes from the Middle East and North Africa. The size of the Medjoul date is its main characteristic, it can measure up to 7 cm. When you have one in your hand, you will be amazed at its size. Usually Medjoul dates are for sale dried. This gives the date a wrinkled skin. In many cases the drying process starts when the date is hanging on the tree!
The taste of the dates
Time to compare these two dates! Let's start with the taste. Dalia Sukkary dates have a softer taste than regular dates such as the Medjoul date. This is partly because we pick our dates when they are soft and creamy. Medjoul dates are also tasty, but have a rather sharp sweetness, so you often want to wash away the sweetness.
The Dalia Sukkary date has a creamy caramel taste and contains a lot of nutrients, including Vit. A, B1, B2, C, K and ten essential minerals, up to 4 times more than regular dates. This is because of the soil in which they grow, the way we handle our dates and because we cool the dates after picking instead of drying them. As a result, the nutrients are best preserved. In addition, our dates contain approximately 29 kcal per date, while a Medjoul date easily contains 66 kcal.
The price of the dates
Then the price. Medjoul dates are usually very expensive to purchase because of their size. Medjoul dates are mainly on the more expensive side because growing and harvesting these dates is very labour-intensive. This also applies to the Dalia Sukkary dates from Yogi & Yousef. [ The dates are pollinated by hand and the trees must be protected from dust and rain. Dates all ripen at different times, so pickers sometimes have to pass the same tree several times. Each date is picked and sorted by hand. Because Dalia Sukkary dates are delicate, this is done by hand and not by machine.
Dalia Sukkary dates are relatively less pricey than Medjoul dates. Yogi & Yousef pick, pack and transport their own dates, keeping costs relatively low. Unlike many other dates, our Sukkary dates are not treated with chemicals, corn syrup or preservatives after picking. After research, we have come to the conclusion that this beautiful fruit does not need any of that. After all, it has been cultivated for more than 6,000 years without these treatments. That's why we add absolutely nothing after picking and we have a 100% natural date!
And the winner is… Yogi & Yousef's own Dalia Sukkary date!
With the softer taste and texture, the Dalia Sukkary date wins over the Medjoul. The fact that the Sukkary date is fresh and unprocessed is also a big plus. Only in size does the Sukkary date lose out to the Medjoul. Oh well then we'll just take an extra Yogi & Yousef date 😉
Became curious?
Shop our dates now and taste the delicious taste of our Dalia Sukkary Date for yourself!