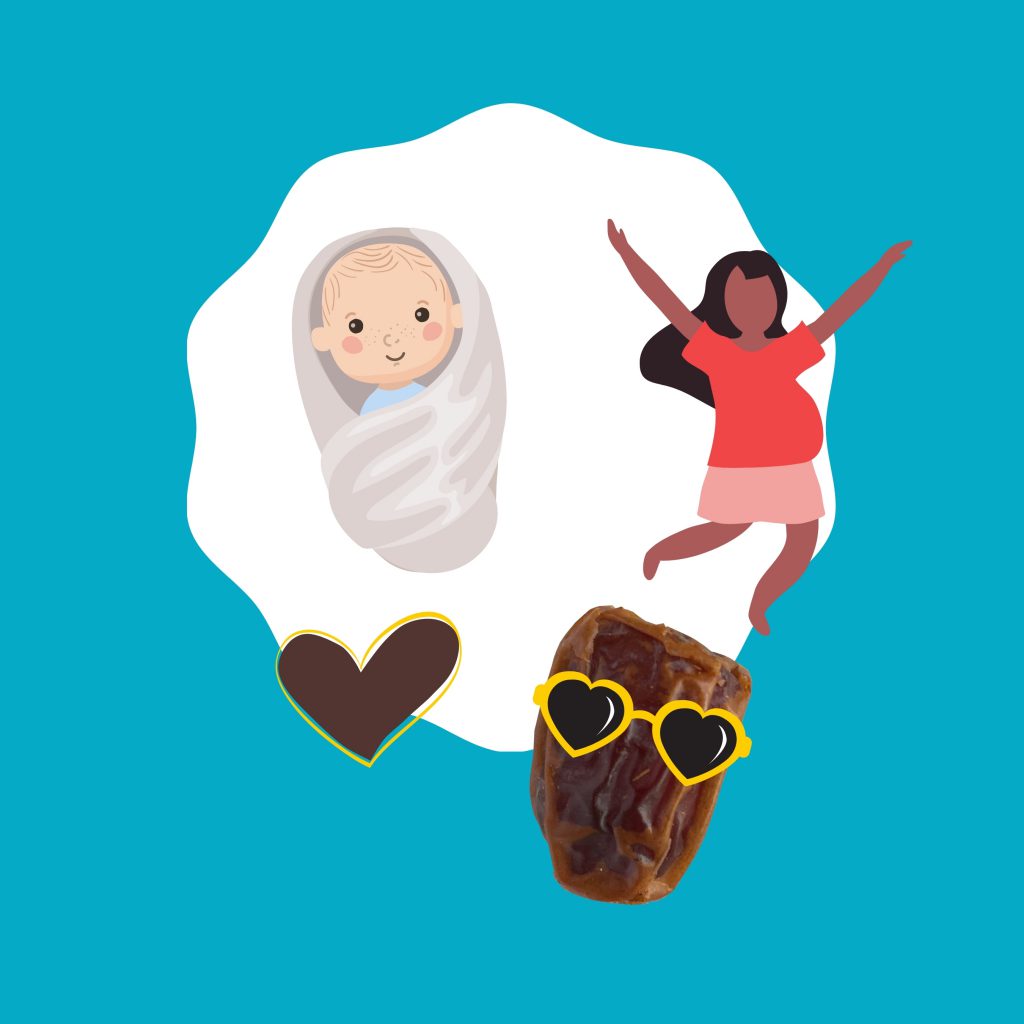 Eating dates during pregnancy can have a number of positive effects. This article lists and explains the benefits and positive effects that dates have on pregnant women.
The positive effects:
Spontaneous delivery

Less blood loss

Breast milk production increase
Spontaneous delivery
In one study, two groups of pregnant women were examined: one group was fed six dates a day 4 weeks before the due date, while the other group of women was not given any. There was spontaneous delivery in 96% of the cases in the date-consuming group, compared to 79% of the deliveries in the non-date group. The conclusion of this study was therefore: the consumption of dates four weeks before the due date can ensure that medical induction of the birth is not necessary. [1]
Another study also seems to confirm this finding. From week 37, one group of women was given 70-75 g of dates per day, while the other group of women did not consume any dates. This study also shows that the group of women who consumed dates had an easier, natural induction of labor than the group of women who did not eat dates. [3]
Blood loss
Furthermore, dates can also affect the amount of postpartum blood loss – especially in women who have never given birth before. Two groups of women were examined for blood loss up to ten days after delivery. The so-called intervention group consumed 100 grams of dates per day during these ten days, while the control group did not. In the intervention group, blood loss was significantly lower than in the control group. Unfortunately, dates had no effect on the duration (number of days) of blood loss. [6]
Breast milk
And that's not all. For example, another study shows that the consumption of dates, or fenugreek tea, can increase breast milk production. Three groups of women were followed for two weeks after delivery: group 1 drank fenugreek herbal tea, group 2 ate several dates per day and group 3 was the control group. The conclusion of the study is that both fenugreek herbal teas and dates seem to increase breast milk production after childbirth. [2]
Consuming dates can therefore have several positive effects for pregnant women. Fortunately, it does not mean that consuming dates during the entire pregnancy can cause labor to start (too) early. The hormone oxytocin plays an important role in inducing labor and it seems that dates have an influence on this. [5] However, there are other hormones that play a role during pregnancy, such as progesterone. The effect of oxytocin is inhibited by this hormone until it is time to induce labour. It is only when the progesterone concentration in the body decreases that oxytocin can induce labor. [4] Consuming dates therefore has no influence on the early induction of labor and can be consumed at all stages of pregnancy.
Curious?
Are you pregnant and curious whether dates also have a positive effect on your pregnancy? Order the dates from Yogi & Yousef and discover for yourself whether dates can also have a positive effect on your pregnancy.
Sources
[1] Al-Kuran, O., Al-Mehaisen, L., Bawadi, H., Beitawi, S., and Amarin, Z. (2011) The effect of late pregnancy consumption of date fruit on labour and delivery. Journal of Obstetrics and Gynaecology 31 (1): 29-31. DOI: 10.3109/01443615.2010.522267
[2] El Sakka, A., Salama, M., and Salama, K (2014) The Effect of Fenugreek Herbal Tea and Palm Dates on Breast Milk Production and Infant Weight. Journal of Pediatric Sciences, vol 6. DOI: 10.17334/jps.30658
[3] Kordi, M., Meybodi, F.A., Tara, F., Nemati, M., and Shakeri, M.T. (2014) The Effect of Late Pregnancy Consumption of Date Fruit on Cervical Ripening in Nulliparous Women. Journal of Midwifery and Reproductive Health, 2 (3). pp. 150-156. DOI: 10.22038/JMRH.2014.2772
[4] Spencer, T.E., and Bazer, F.W. (2004) Conceptus signals for establishment and maintenance of pregnancy. Reproductive Biology and Endocrinology, 2, 49. DOI: 10.1186/1477-7827-2-49
[5] Razali, N., Mohd Nahwari, S.H., Sulaiman, S., Hassan, J. (2017) Date fruit consumption at term: Effect on length of gestation, labour and delivery. Journal of Obstetrics and Gynaecology, 37 (5): 595-600. DOI: 10.1080/01443615.2017.1283304
[6] Yadegari, Z., Ali Akbari, S.A., Sheikhan, Z., Nasiri, M., and Akhlaghi, F. (2016) The effect of consumption of the date fruit on the amount and duration of the postpartum bleeding. The Iranian Journal of Obstetrics, Gynecolgoy and Infertility, 18 (181). pp 20-27. DOI: 10.22038/IJOGI.2016.6631